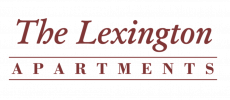 Your Review
Submit a Review

Resident Reviews
|

Recommended: Yes
Andres, Thank you for your review. We are so glad to hear that you are having a great experience and enjoying your home. The Resident Relations Team The Lexington Apartment Homes
|Recommended: Yes
The Best Management Team Ever — Our Apartment is absolutely fabulous. Our Manager Jose goes beyond to help residents and attends to your needs and concerns Immediately, the staff is very friendly, and the residents Are amazing and sweet. We love that this apartment is in an area where it is quiet and Our grounds are landscaped beautiful and very well kept with cleanliness I would recommend when an apt comes up take it you won't be disappointed
Thank you for your feedback Michael. We are glad you have had a positive experience so far living at our community, and we hope you continue to enjoy living here. Please reach out to our office if we can improve in any way. Resident Relations Team The Lexington Apartment Homes
|Recommended: Yes
Amazing complex — This place has had 4 managers in my two years since I been hear. Finally the newest manager is amazing. His priority is about making sure the tenants are taken care of. Highly recommend moving here if you are looking for a nice apartment complex
Tyler, Thank you for your review. We are so glad to hear that you are having a great experience and enjoying your home. Resident Relations Team The Lexington Apartment Homes
|Recommended: Yes
Quiet place with great location — A nice gated community where everyone is nice and friendly. Really close to the Riverpark mall and easy access to the 41. Also very pet friendly which is rare and awesome.
Thank you for taking the time to post this review. We appreciate your feedback and are so pleased to offer you a positive living experience. Please contact us at 559-436-1777 and let us know how we can earn that fifth star. We value you as a part of our community. Warmest Regards, The Lexington
|Recommended: Yes
Its a nice place, so quiet and all people love animals — my family is very happy here. The condo is nice, clean, good maintenance, it is a super quiet place. They do not discriminate against pets because of their size. The neighbors are very friendly.
Thank you for your review. We are so glad to hear that you had a great experience and enjoyed your home. -The Lexington Management Team.
|Recommended: Yes
The property is always well maintained. The grounds are pretty and clean. — When I had to find an apt. 20 years ago, the Lexington met all my needs and still does after all this time. 20 years is a long time to live in one place, let alone an apt. It has the feel of a home because it is so spacious with garages, patios and some even have small yards. It is centrally located to everything a person could want. You don't even need a car to get around. When I enter the gates here it feels so good to be home. It is my sanctuary. I am so thankful to live here.
Hello Patti, Thanks for your lovely review! It warms our heart to know we have had the pleasure to serve you for 20 years! Thank you for being a valued resident of ours. -The Lexington Resident Relations Team
|Recommended: Yes
I won't be moving from here — I feel very comfortable and safe living here. It feels like my cozy little corner of the world. We plan on calling this home for years to come. Excellent customer service from Cassandra, and prompt responses with anything that arises with maintenance, overall very friendly staff
This is great news! Thank you for your kind words and taking the time to share with us how happy you are at The Lexington Apartments.
|Recommended: Yes
Best manager — We love living here at the Lexington,, Cassandra is by far the best property manager I have ever had.. She is so understanding and always willing to help her tenants out and is very prompt with her responses.The grounds are kept up and maintained..You wont be disappointed
Thank you for your kind words and review! We appreciate you as a valued resident and for taking the time to let others know how happy you are. We hope to continue to exceed your expectations!
|Recommended: Yes
Lexington is a river park gem. I've been here almost 5 months now and I love the manager, staff and my neighbors Parking can be tricky but I always find something if not parking in garage. I've had no issues here — The quaintness of the complex makes it feel homey. Very quiet, well kept and well managed. Cassandra is very personable and will assist you with whatever needs arise. The only complaint I have, is that there is no living room ceiling light fan or in main bedroom.
Thank you for choosing Lexington as your place to call HOME. We are lucky to have such a valued resident who took the time to give such a great review. We look forward to exceeding your expectations!
|Recommended: Yes
Nice place to live — It's a peaceful place to live, it's dog friendly, well maintained and the staff is nice. I love being close to Riverpark shopping and Woodword Park. The parking is slim at night, but everyone has a garage. The pool is super fun in the summer and it stays pretty clean. If I could recommend an improvement, I'd ask for more lighting at night...it tends to be pretty dark pulling into this place. The apartments are spacious and modern. I truly enjoy living here.
We are very excited to hear that you are enjoying your home at The Lexington Apartments! We take pride in providing excellent customer service and value our residents and we will get on the lighting throughout the parking areas. We look forward to exceeding your expectations in the future. Thank you again for being a valued resident here at The Lexington Apartments!
|Recommended: YesNo Place Like Home — Having lived here for many years now, I can say that this has been an enjoyable experience. We have been fortunate to have really good neighbors., The staff is helpful and knowledgeable. I enjoy talking to all the people I see walking or driving by. As an older person, I like that people seem to like interacting with others within the complex.
|Recommended: YesIt's very nice and pleasing to the eye. — It's very quite and relaxing. Also the maintenance and office are on top of everything.
|Recommended: YesSpacious small apartments — Spacious small community of apartments that make you feel like home. I like that its located in riverpark you're near everything in a timely manner.
|Recommended: YesGreat place to live. — Great place with exceptional staff. Parking can be challenging at peak times but seems to work out. Love the dog friendly attitude.